An ecommerce experience for the future of EV
---
Details
Scope
Shopify Development, Consultation
---
Ryvid
Founded by enthusiasts, engineered by innovators, and designed by aerospace industry gearheads, Ryvid was formed by a desire to combine the heart of an EV with the soul of moto. The company name was derived by the merging of rhythm and avid, elements of motion and emotion that define the experience of riding a Ryvid.
---
The Brief
Approached by the team at Ryvid with an exciting vision for the EV market, we were tasked with delivering a three-stage website launch to coincide with the launch of their first product – the Anthem. Their ecommerce store needed to convey the quality and ethos of the brand, whilst providing an effective experience for a high value product.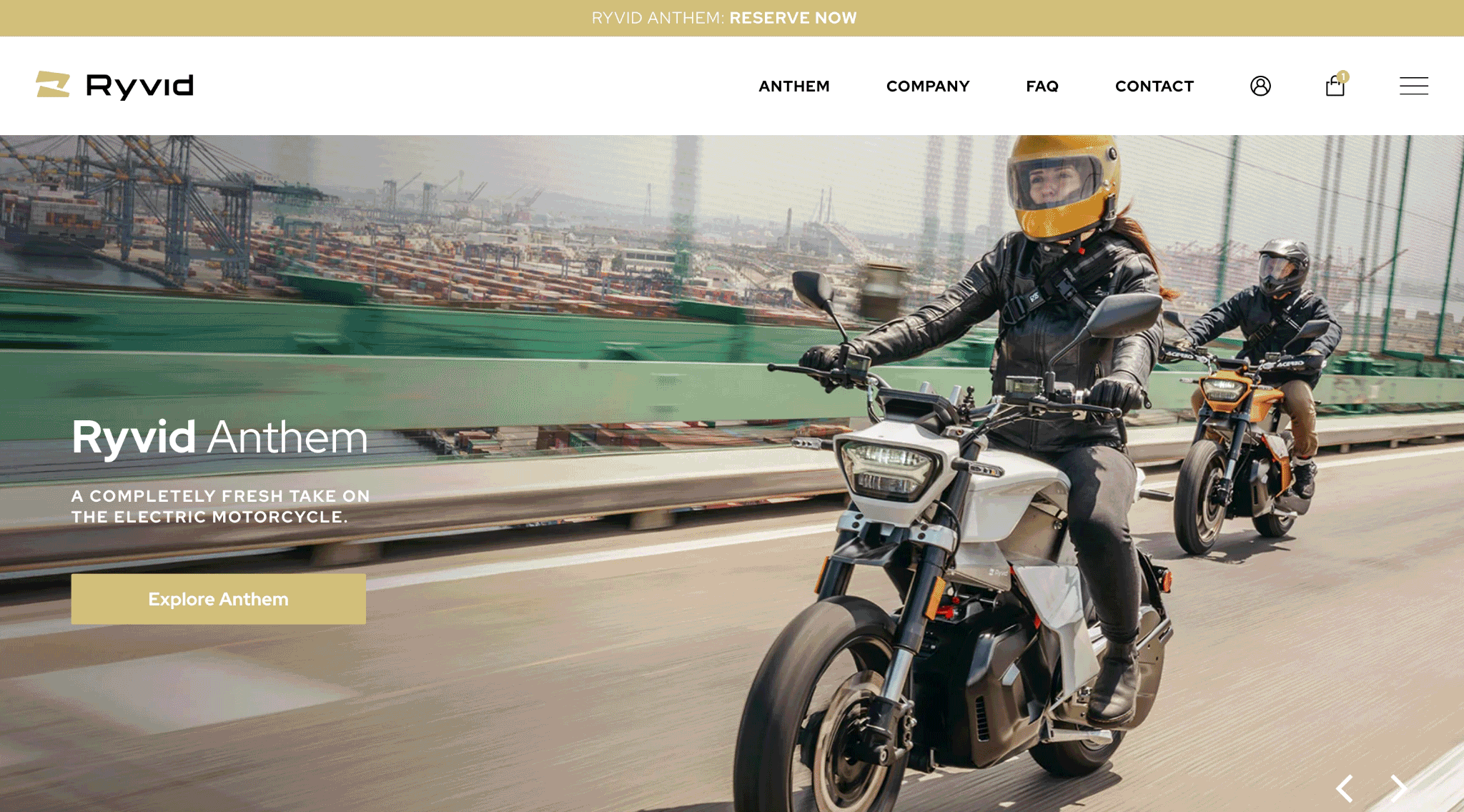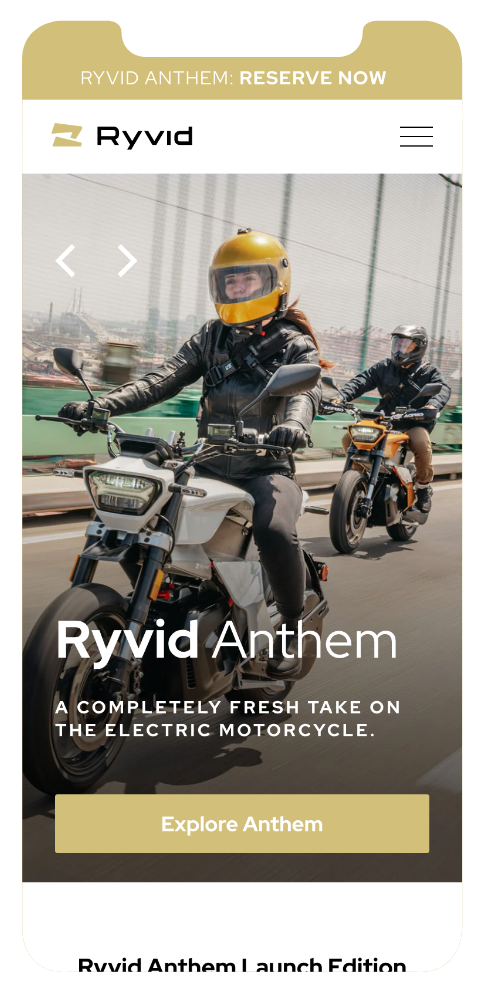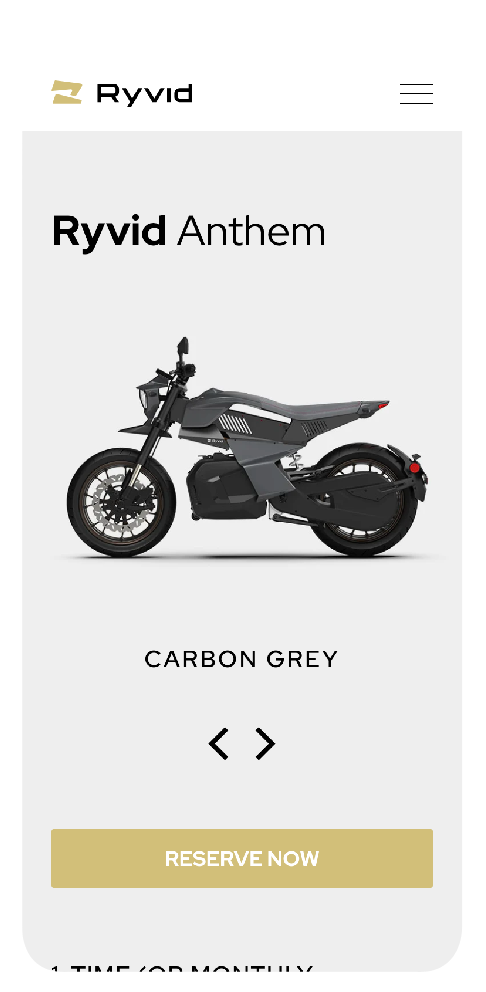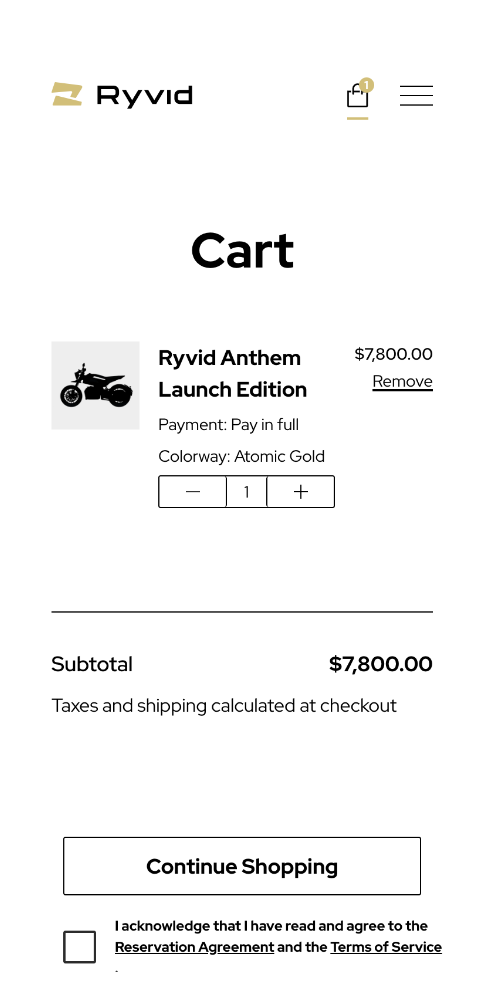 ---
Our Approach
Coming on board in the early stages of the project, we were able to help guide the in-house design team on how to effectively create a user-experience for the Shopify platform and provided consultation in how to achieve their goals with key functionality. Once this process was complete, we set about building the website across several development sprints to achieve the client's various time-sensitive targets.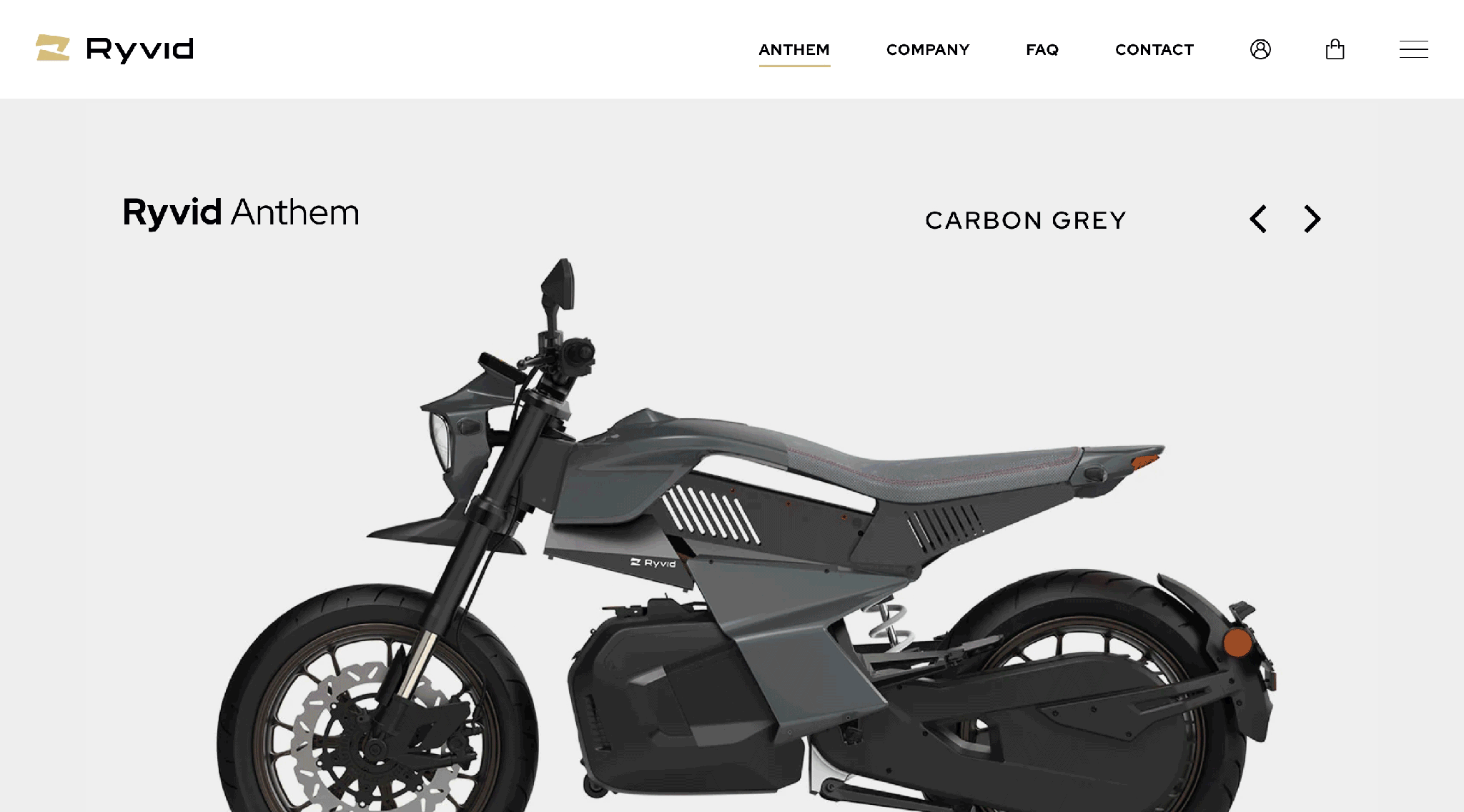 ---
The Process
The project comprised of three stages. The first stage was to create early adopter interest and media hype around the Anthem launch, with a stand alone landing page to give the brand a voice. We then produced an informational website to provide customers with more key information, insight and initial visuals into the product, prior to the upcoming full-launch. Our final iteration of the website was the successful full ecommerce experience. This segmented approach allowed us to guide the client through the various milestones to a full-launch.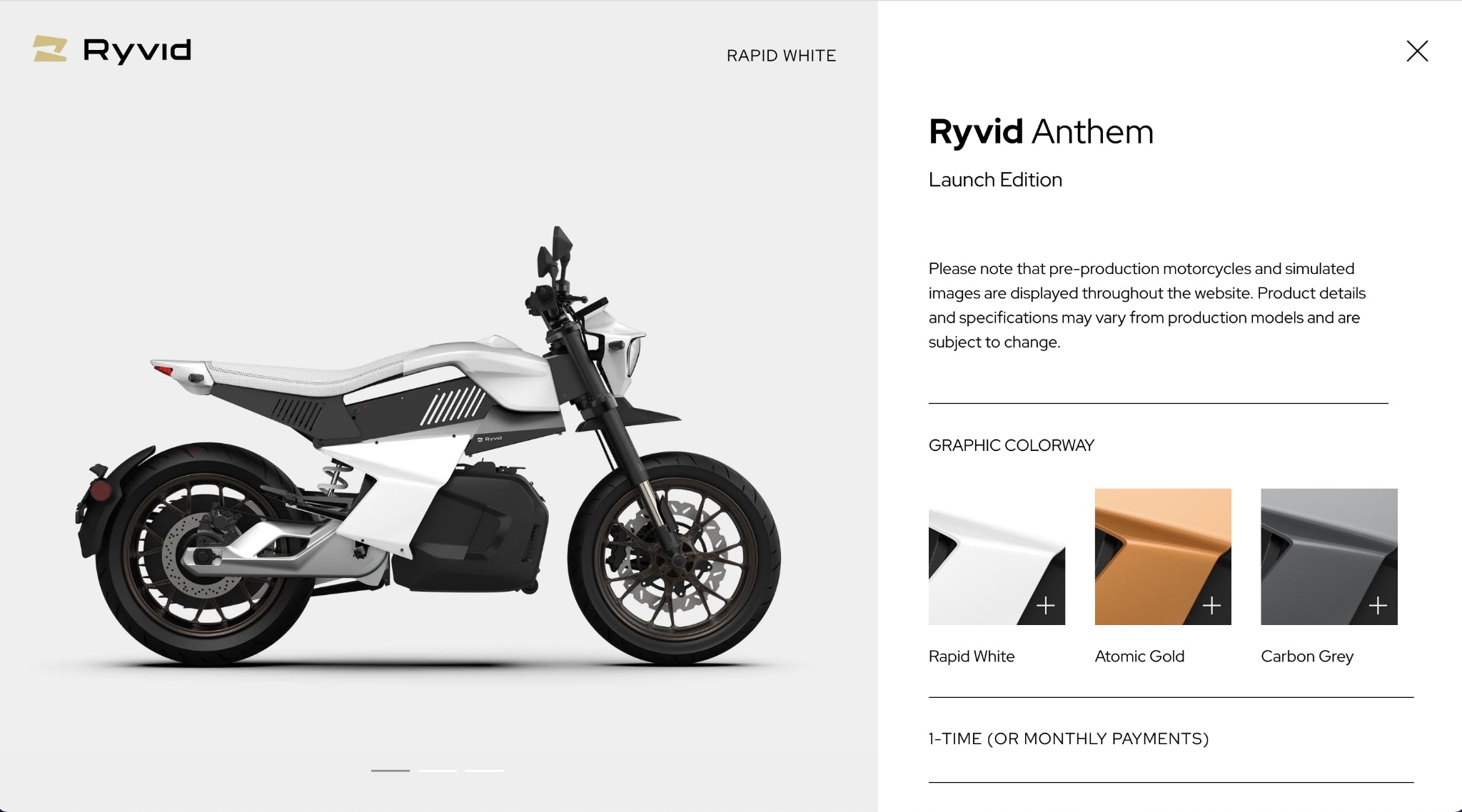 ---
Challenges
With the goals of getting to market and generating early stage attention, the project demanded an intensive schedule from the outset. Being a fledging company – the project adapted throughout and as such, required flexibility and determination during the process to achieve the goals and desired outcome for the all-important product launch, which we met with a supportive and accommodating nature.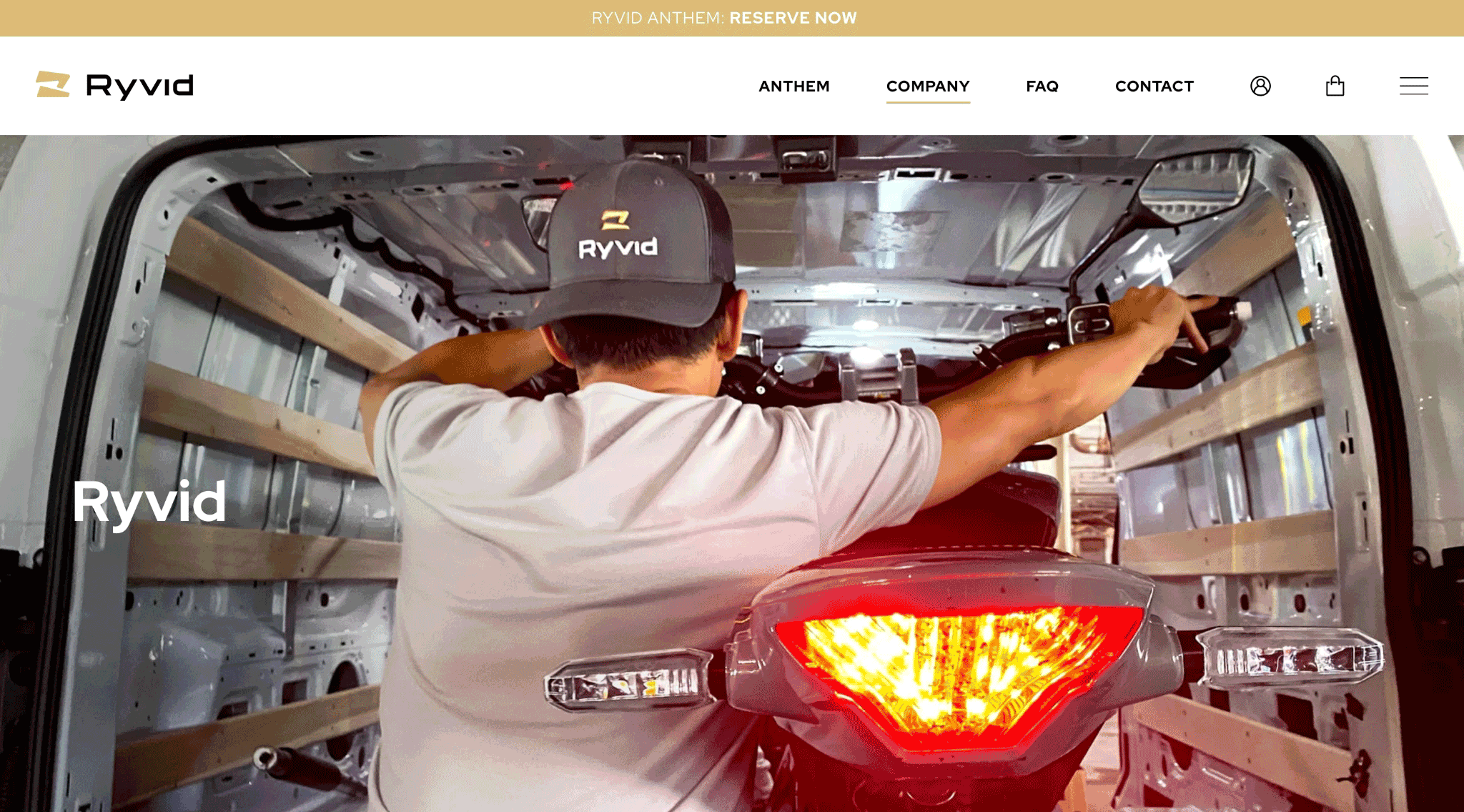 ---
Testimonal
"The team at Hatch were fundamental to the success of our brand launch. Their tireless efforts, knowledge and process enabled us to achieve our initial goals for the company, for which we would highly recommend their work."
Mike Schumann – Chief Product Officer, Ryvid